This article is great example of how Red Acre Investments can put you Ahead of the Curve.  When this article was published, Acadia Pharmaceuticals (#ACAD) stock was trading at $1.92. Based on our analysis of the facts surrounding the company's upcoming pivotal clinical trial results, we predicted that the stock was poised to increase in price by as much as 100% by December. We recommended that a long position would serve investors well ahead of this binary event.
Here is what happened after our recommendation. On September 20th, ACAD's stock price climbed to a high of $2.84 - a 48% gain within 10 days. On October 4th the stock reached an intra-day high of $3.06 - a 59% gain within 25 days.
On November 27th Acadia announced stellar top-line results from their clinical trials and the stock reach a high of $7.45 a 388% gain in 78 days.
You can increase your investment returns when you subscribe to Red Acre Investments because you'll have access to our proprietary Red Acre Insights analysis reports before everyone else.  Subscribe today to Get Ahead of the Curve. 
Here's a screenshot from Google finance showing our article published and the subsequent price action (click to enlarge).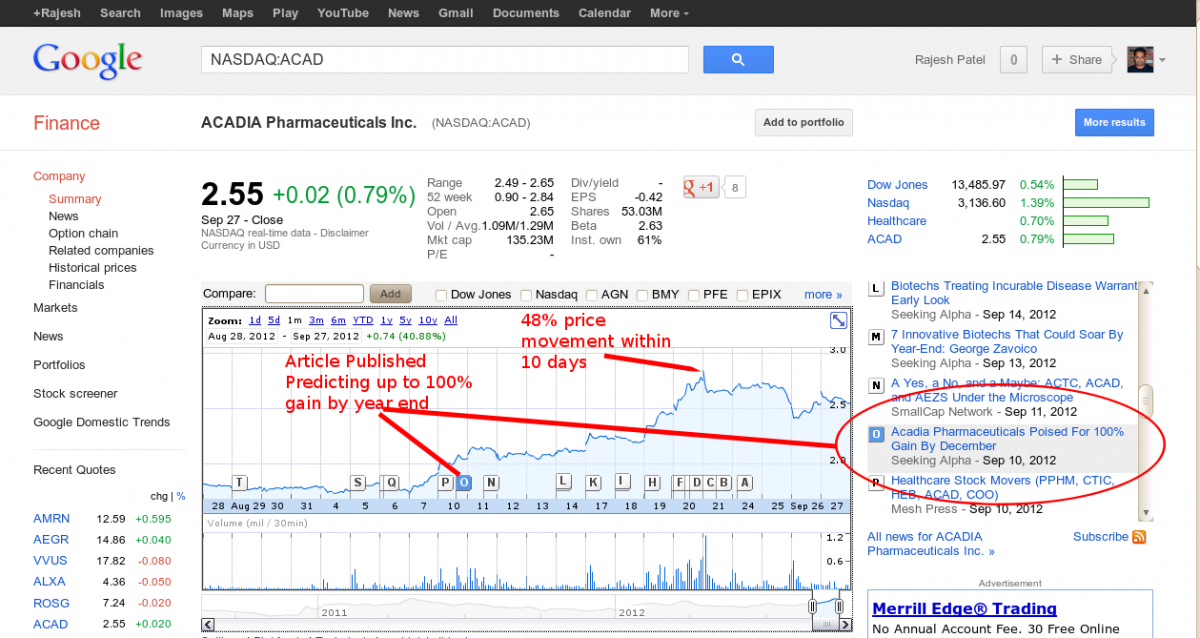 This article was published on Seeking Alpha on September 10, 2012
Acadia Pharmaceuticals (ACAD) recently announced full enrollment in the latest phase 3 clinical trial for it's lead drug candidate Pimavanserin for treatment of Parkinson's disease psychosis (PDP). Based on past movements in the stock ahead of key clinical trial data releases, we believe that ACAD is poised to run by up to 100% between now and the release of the phase 3 data in the end of November.