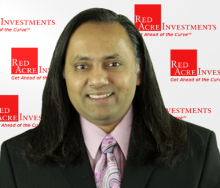 Hi, I'm Rajesh Patel. I want to help you...
Become A Better, Smarter and More Profitable Biotech Investor
With My
FREE

Red Acre Review
Only Red Acre Review transforms the biggest news in biotech into simple case studies you can use today to avoid past mistakes and enjoy future profits.
The Biotech Market moves fast but Red Acre Review helps you Get Ahead Of The Curve….
Discover the Real Reasons behind the latest jumps and falls…and why they're often not what you think
Understand the science of investing & the science of biotech so you'll never get fooled by bad science or bad trades again
Hear what the big buy side guys are thinking and how they're counting on making money from what you don't know
Sign up for the Free Red Acre Review and discover why in the biotech market "Knowledge is Profit"