Last Week's biotech selloff, may be due to political gamesmanship on the part of 3 congressional Democrats according to new information we learned today.
On March 21st the biotech sector began a major selloff that continued through all of last week triggered in large part by a letter dated March 20th sent from representatives Waxman, Pallone and DeGette to Gilead Sciences (NASDAQ:GILD) CEO Dr. John Martin. The Letter concerned the pricing of GILD's new drug SOVALDI.
Many investors took news of this letter as a sign of trouble for the biotech market. Indeed if there is strong pushback regarding drug pricing, the profitability of biotech companies, and the sector as a while comes in to question.
In this case however, new information which we learned today casts new light on the selloff and the reasons behind the letter to Gilead.
Meeting with Waxman Already Scheduled
Bloomberg reporter Drew Armstrong, tweeted that, according to GILD, a meeting between congressman Waxman and the company had already been scheduled for April 3rd before the March 20th letter from the 3 representatives.
We confirmed with Gilead Sciences that a meeting between congressman Waxman and the company was already on the schedule prior to the March 20th letter.
A company spokesman we spoke with stated that:
We meet with congressmen all the time to keep them informed about issues. It's part of what we do at Gilead Sciences
When asked whether or not the meeting had been scheduled before the letter - the answer was an unequivocal "Yes".
Biotech Selloff 11% Market Value Lost Due to Political Gamesmanship
Last week the biotech market, as measured by the iShares Biotechnology ETF (IBB) lost eleven percent of it's value. That's a hefty toll of nearly $44 billion in market value lost due to political gamesmanship. According to some analysts, the biotechnology component of the S&P 500 is around $400 billion thus a 11% correction is ~$44 billion. See the chart below illustrating the selloff (data from TD Ameritrade - click to enlarge).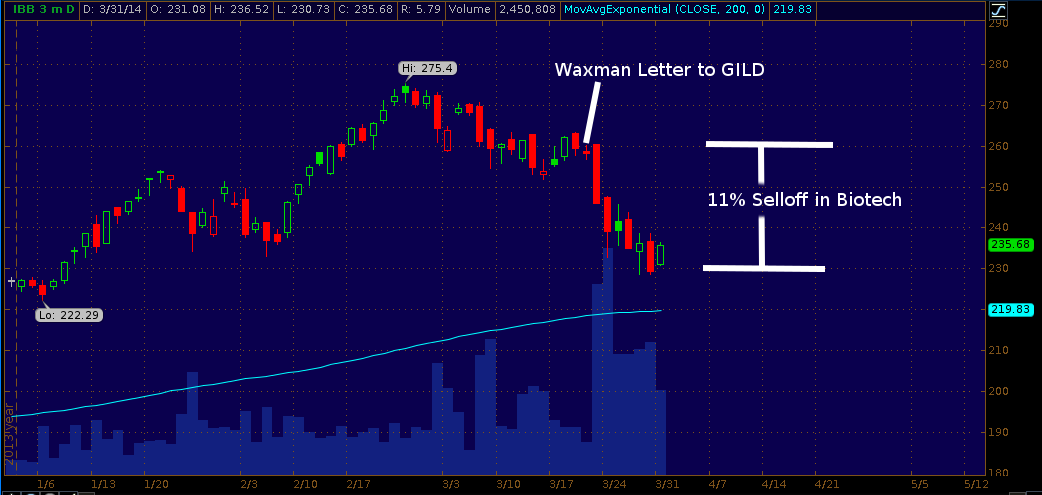 Given that the congressman already had a meeting scheduled with Gilead for April 3rd, getting answers regarding drug pricing could have been handled with a simple phone call to put the discussion on the agenda. By issuing a letter and making the letter public, the representatives have gone on record with their concerns over drug pricing. While these concerns may be genuine, there is currently no tool for congress to regulate drug prices.
Publicly issuing a letter to GILD creates the appearance that the April 3rd briefing was requested via the letter. In reality, the meeting was set up ahead of time and the congressmen took advantage of this pre-scheduled meeting to score political points.
We conclude that representatives Waxman, Pallone and DeGette are playing political gamesmanship. Raising a public outcry over an issue when the company was already willing to meet with them. We contacted Congressman Waxman's office but they have not yet responded to our inquiry into the sequence of events.
Takeaway
While the letter from Representatives Waman, Pallone and DeGette spurred the late March selloff in biotech, fueled additionally by the financial media's talking heads pounding the table regarding a biotech bubble, these new facts make clear that the perceived headline risks are a bit overdone. There are many reasons to be cautious about the pace of advance in biotech equities, but this letter from congress was not a new risk for the sector. Instead it appears to be House Democrats trying to claim an issue for political purposes.
Update
After this story was originally published, we received an email from Ms. Karen Lightfoot, press representative for the Democratic members of the House Energy and Commerce committee. In her email Ms. Lightfoot asserts:
On background, it is not correct that the meeting was scheduled before the letter was sent.  The meeting date you cited was incorrect. 
We've reached out to Ms. Lightfoot - several times - for some clarification regarding the correct meeting date. We would be happy to publish an accurate account of these events if proper details are provided. Disputing a statement that was made directly by Gilead without providing supporting details doesn't cut it.
Ms. Lightfoot - you know how to reach us if you'd like us to share your side of the story.